Minute Meditations
Baptism
If birth is so important that it marks a major touchstone every year, shouldn't our rebirth in Christ at baptism be even more important?
If baptism is the sacrament through which people enter the church, it seems fitting that Jesus shows the way - identifying with sinners though he was sinless.
Every baptized person needs to mature in his or her faith. If the church baptized only adults, that would create a false sense of security, a conviction that ongoing conversion is no longer necessary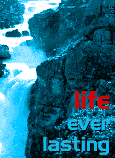 Luke 2:8-11

"And there were shepherds living out in the fields nearby, keeping watch over their flocks at night. An angel of the Lord appeared to them, and the glory of the Lord shone around them, and they were terrified. But the angel said to them, "Do not be afraid. I bring you good news that will cause great joy for all the people. Today in the town of David a Savior has been born to you; he is the Messiah, the Lord."
Please Assist Us to Maintain this website and Develop New Features

Parenting Without Regret
Finding God's Purpose for Your Money
Passion & Purpose by Jimmy Seibert
Our God Comes

This website is licensed under a
Creative Commons Attribution-ShareAlike 4.0 International License
.